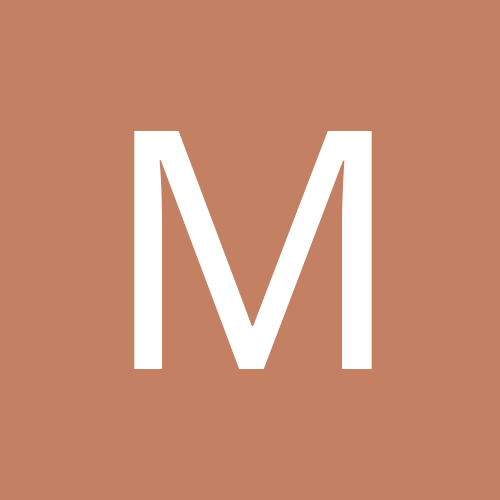 Michael.Charalambous
Members
Content Count

13

Joined

Last visited
About Michael.Charalambous
Recent Profile Visitors
The recent visitors block is disabled and is not being shown to other users.
Thanks for your responses bear351c how do you check the thermostat on the stove (never done it before) so put it in a pot of boiling water im assuming and what am I looking out for? I havn't checked the timing for when it was set I will look into that Definitely looking for a shroud to put on the thermo aswell The fan is currently sucking through the radiator what is the better option push or pull or is it much over much?

Sorry about the shit quality photos the forum wont let me upload any high resolution. It will appear there is a bypass plate in there but the thermostat does not have the foot block off on it. Whats my best options to go from here? Get the correct thermostat with bypass block off foot? And get a shroud for the thermo fan?

deankdx

reacted to a post in a topic:

Best radiator to use

Thanks heaps for all your help mate ill definitely send you a pic most probs saturday when I have some free time of the thermostat out so we can see if theres a plate or not and go from there

Ok we have found the problem then. Could you please send me a link of the correct thermostat to get. Would I need to replace the bypass plate aswell?

https://www.holley.com/products/cooling/thermostats/parts/4363 Thats the thermostat I put in and I will take a photo of it removed next chance I get to send to you. I may I gotten the wrong one as it says it opens at 160° is that to high? I may have gotten confused in thinking it was farenheit

Thanks for all your responses - Thermo is 15inch - The the thermo is pulling - It is a Mr. Gasket thermostat and I didnt replace a thermostat bypass plate when I replaced it. Where does the bypass plate sit? - I never set the thermo on a switch it run constantly once car starts because of my over heating issues - It does have a small cam in it unsure of specs as the guy did not provide them when I bought the engine. I am running a MSD 6al2 box but unsure of what timing is set at as I took it to a shop to get tuned.

I have a 1985 xf with a mild 351 clevo in it which continues to over heat. I have a chinese 3 core alloy radiator which I bought off ebay for 200bucks, a Spal 15inch thermo. It use to when cruising sit around 100degrees so I changed the thermostat now sit around 80degrees cruising but once I get stuck in traffic it creeps back up to 100 and sits and then just continues to climb even when I cruise again. I don't have a shroud on the thermo fan is it worth me getting on made up? Or am I better off upgrading the radiator? and if so can anyone recommend a good brand or any other advice on the matter.

Michael.Charalambous

reacted to a post in a topic:

Ford XF radio

Hey boys I have a 1985 xf with the factory radio and speakers. The radio has stopped working. When you turn the knob of the volume on and all the way up you can hear static so wondering if the radios cooked or speakers blown? Has this happened to anyone else? Any suggestions on how to fix it?

Michael.Charalambous replied to Michael.Charalambous's topic in Auto Electrics

Sweet as boys ill have a look under the pedal. By the look of it its just plug and play?

Hey Boys, so I have 1985 Ford xf powered by a 351c. I have lost brake lights. All other lights work and all electrics are sweet. I changed the bulbs still no brake lights. A mate mentioned it may be a fuse so i checkes the fuse box and cant locate a brake light fuse. Any suggestions to what the problem may be and how I can go about getting them working again?